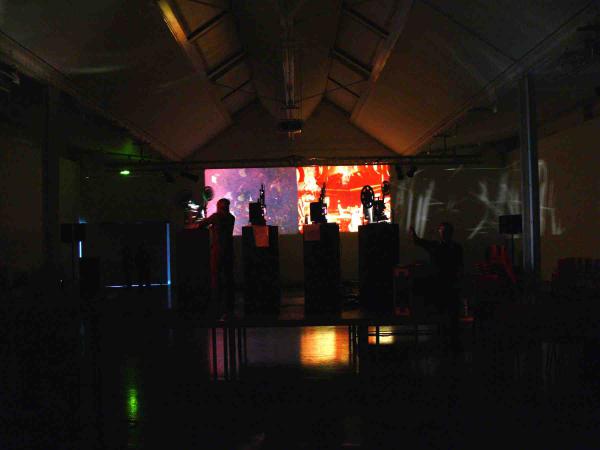 LIGHT WORK MOOD DISORDER
2007, side-by-side dual-projection 16mm, 27 minutes
Music by Anthony Burr

Film artist Jennifer Reeves and musician Anthony Burr collaborated to create this live film and music performance, which mixes and subverts symbols of science, industry, medicine and illness. Multiple film screens and live music immerse the audience in intense color, rhythmic molecular forms and textures, and morphing frequencies. 20th century educational films are literally sewn together with melted down pharmaceuticals affixed directly to the film. The projector acts as a microscope enlarging crystallized antibiotics, heart, and mood medications, forming a concentrated fusion with pulsating sine waves and multi-tonal bass clarinet. Illustrations of brain dendrites, synapses, waveforms and assembly lines give form to the movement of frequencies and light that envelop the audience. This associative meditation on invention and manufacture, mind and body and industrialized medicine, creates a bold impression of the first century of celluloid.
AWARDS
2008 Images Festival, Toronto. Marion McMahon Memorial Award